This is what I picked Up yesterday .. He "Split" Himself on the Ice , The Farmer was rather Upset as this Bull was the Best he ever had. The Farmer Said he was 1800#s !! Well lets just say I had to ask the Farmer for a "Bigger Gun" !!!
Now I did all the Skinning and Quarting while this Beast was Still on the Trailer with the Help of the 4 wheeler .. Then De-Boned all the Meat and Started Grinding it ..
I have found that Using it Ground makes it much Easier to use..
He was 12' Long !! Yesterday Morn. at 11:30
He Was Huge !!
Heres the Grider and you can do about 400# in a hour with it !!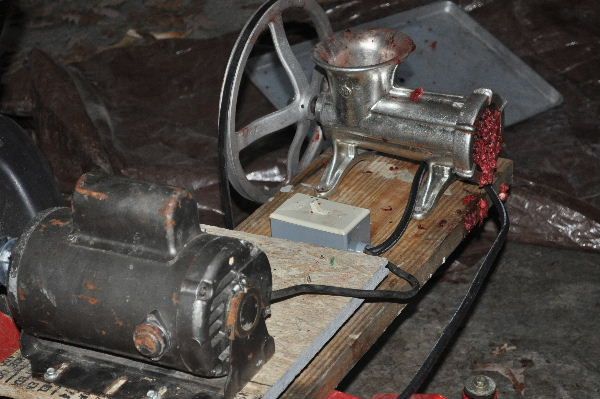 Eash Tray Hold about 35#s of Ground Beef .. And I Pack about 5#s in 1 Gal Zip Lock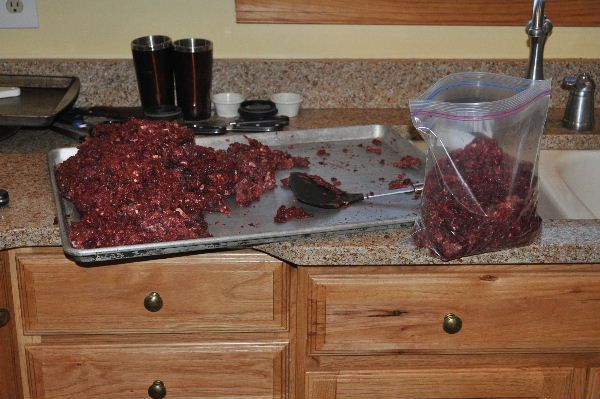 I have been Feeding about 40-50% Raw Beef with Dry Feed. The Problum is that out of 3 Head of Cattle this Winter their isn't Enough Fat on these Cattle .. Dairy Cows have No Fat at All !!!! Even this Angus only had about 5% Fat if that !!
I'am still working on just how much Raw to Dry Feed I should be using ..
Now their is a Huge Amount of Dairy Cattle that Split their Hind Quaters !!! 2 weeks ago I got a call on a Dariy Cow that Hung Herself in the Feeder Head Stalls ..
Guys Theirs alot of Free Hound Feed out their !! It has taken me about 12 Hours to Grind this size of Beast..
Like I said I do it all Right on the Trailer You Skin Half then De-Bone Half ..
I got 498# off one Half .. Once you have it Boned out on one Side you have to Gut them.. I Pull the Trailer to a Hill on our Property, Then Back Down and Start Gutting .. You just Roll it off the Trailer .. Very Easy !!
Then you have to Flip them over and do it again !!!!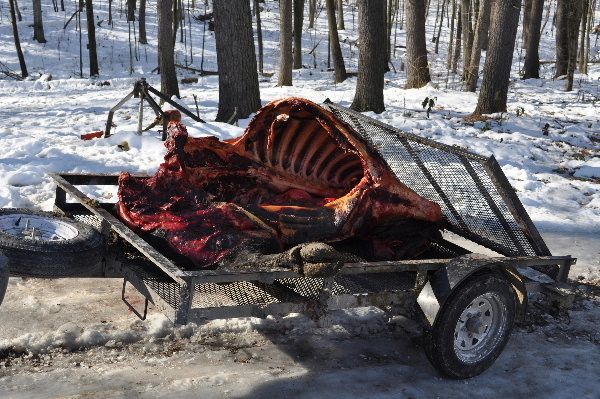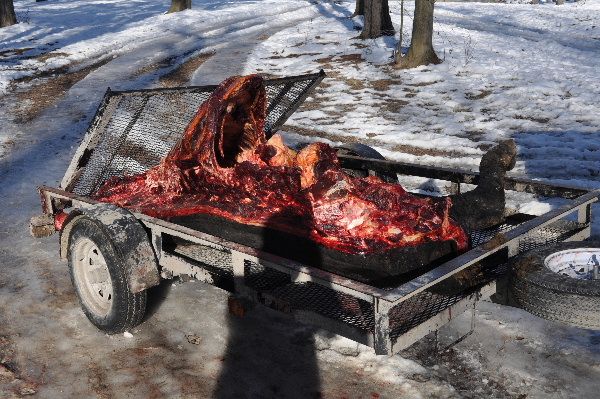 All you'l have left is Bare Bones ... I just Wish I had a Bone Grinder !!!
Maybe I'l try Renting a Tree Chipper Grinder ????? LOL
By the Way His Heart Barely Fit in a 5 Gal Bucket.. His Liver Filed 2-5 gal Buckets
I Did Not Cut the Tripe Out "Yet" this will be another 50#s of Feed ...
The Biggest Shock I had was once the Farmer had Loaded Him on my Trailer he ask me "Do I owe you Anything for Hauling him Off" !!! NO I'am GOOD I Said !!
_________________
Steve Morrow "Saltlick Majestic's"
"Never Have Hounds Or Kids And You Won't Get Your Heart Broke"!!
Come see the Majestic's at
http://home.mindspring.com/~stevemorrow/index.html
Or Salt Lick Kennels at
http://home.earthlink.net/~landjmorrow/saltlickkennels/